DIFC Courts memorandum with the Hong Kong High Court cements China links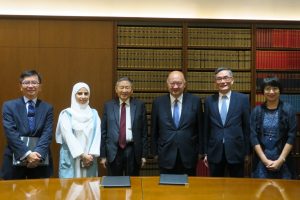 (L-R) Mr. Simon Kwang, Registrar Hong Kong Court of Final Appeal; Mrs Amna Al Owais, Chief Executive & Registrar, DIFC Courts; Dr Michael Hwang SC, Chief Justice, DIFC Courts; The Hon Chief Justice Geoffrey Ma, Chief Justice, Hong Kong Court of Final Appeal; The Hon Mr. Justice Andrew Cheung, Chief Judge, Hong Kong High Court; Ms Emma Lau Judiciary Administrator, Hong Kong High Court 
DIFC Courts and the Hong Kong High Court sign Memorandum of Guidance to enhance enforcement of cross-border judgments
Alliance builds on existing memoranda with dispute resolution entities of major Chinese trading hubs
Dubai, United Arab Emirates; 12 August 2018: Dubai International Financial Centre (DIFC) Courts have taken another major step towards connecting with China's leading dispute resolution centres through the signature of a Memorandum of Guidance (MoG) with the High Court of the Hong Kong Special Administrative Region of the People's Republic of China (Hong Kong High Court).
Devised as a practical mechanism to foster investor confidence and legal certainty, the MoG will serve as technical guide for the international legal and business communities on recognition and collection of money judgments in DIFC and Hong Kong.
Last year, trade between the UAE and Hong Kong alone totaled $10.87 billion, up from $10.59 billion in 2016. This figure is expected to rise further as Hong Kong consolidates its position as a leading commercial hub supporting the $5 trillion Belt and Road Initiative (BRI). The expansion in trade and investment between UAE, Hong Kong and mainland China means that disputes become increasingly inevitable, making the role of international commercial courts more important than ever before.
The MoG was signed between Michael Hwang SC, Chief Justice, DIFC Courts, and the Honourable Mr. Justice Andrew Cheung of the Hong Kong High Court. Speaking at the signing, Michael Hwang SC, Chief Justice, DIFC Courts, said: "This year the UAE and China have entered into a new phase of co-operation. Our new alliance with the Hong Kong High Court will not only provide guidance to parties with commercial claims before our two courts, but will also result in greater trade security for Chinese and international businesses and investors, securing participation in Hong Kong and mainland China's growth."
The MoG comes at a time when UAE-China relations are at an all-time high, following President Xi Jinping's three-day visit to the UAE in July. Bilateral trade between the UAE and China is forecast to grow to $70 billion by 2020, and under 'One Country, Two Systems', Hong Kong has long established itself as one of China's key financial centres.
DIFC Courts' Chief Executive & Registrar, Amna Al Owais, accompanied DIFC Courts' Chief Justice to sign the Memorandum of Guidance (MOG) in Hong Kong, following visits to the Shanghai High People's Court, Zhejiang High People's Court, and Hangzhou Internet Court.
The DIFC Courts' visit to mainland China and Hong Kong follow memoranda signed with the Shanghai High People's Court in 2016 and with the Hangzhou Arbitration Commission in 2017.