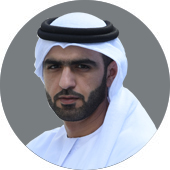 SCT Judge and Registrar
UAE
Nassir was appointed as a DIFC Courts' Judicial Officer in December 2012. In 2017 he was appointed as an SCT Judge and Registrar. Nassir is a graduate of the University of Middlesex (UK) with a Bachelor's Degree in Law, and a Master's Degree in Business Administration (MBA) from University of Dubai. Nassir is also the first Emirati to join the DIFC Courts whose primary legal training has been in English common law.
Prior to joining the DIFC Courts, Nassir undertook a training programme with Dubai Public Prosecutor's Officer and Dubai Courts as an intern. Nassir works closely with the DIFC Courts' international and national Judges, providing judicial support by undertaking legal research, sitting on Small Case Tribunal (SCT) proceedings and sitting in Case Management conference and application hearings.
SCT Judge
UAE
Maha Khalid Al Mehairi originally joined the DIFC Courts in 2012 as a Case Progression Officer and was appointed a Judicial officer in early 2013, before becoming a Small Claims Tribunal Judge in 2017. Prior to joining the Courts' team, Maha worked as a legal consultant in Emirates Advocates. She holds a Bachelor's Degree in Law from the University of Sharjah, as well as a Higher Diploma in E-business Management and a Master's Degree in Business Administration from the Canadian University of Dubai.
Maha is an accredited mediator of the Royal Institute of Chartered Surveyors (RICS), under its 'Accredited Mediator Training Programme'. She was the first Emirati woman to qualify and will use her new skills in handling property-related hearings in the DIFC Courts' Small Claims Tribunal.