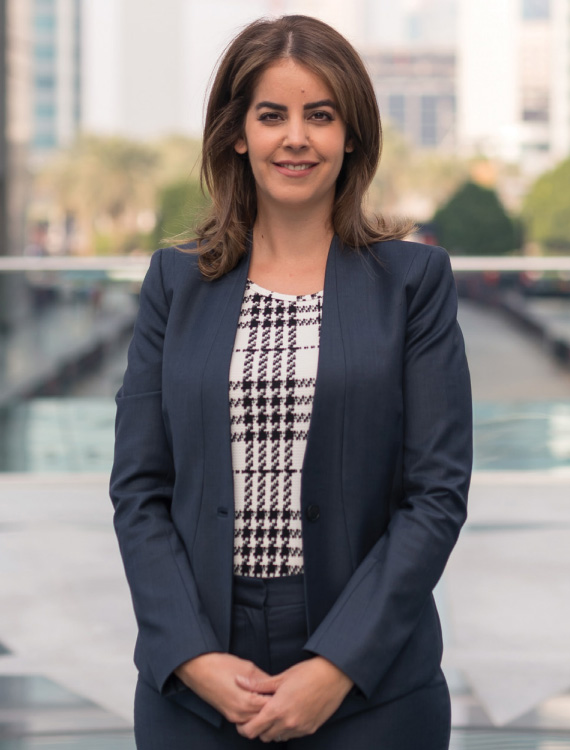 By Nour Hineidi Kirk Deputy Registrar, DIFC Courts
About Nour: Nour Hineidi Kirk was appointed as Deputy Registrar of the DIFC Courts in February 2018.
Nour's main role is to work in tandem with the Registrar, helping to ensure seamless operation of the Courts. Her duties include maintaining the momentum of existing Registry measures, which aim at ensuring increasing efficiency through the accomplishment of technology and human experience. She also focusses on professional development and supporting UAE nationals to pursue senior careers within the DIFC Courts. In addition, Nour consults with the DIFC Courts judges to assist them in carrying out their duties
Prior to joining the Courts, Nour practiced in the Dubai office of a large international firm. She has over ten years legal experience in Australia and the Middle East, with her expertise concentrated in international commercial arbitration and litigation across a broad range of sectors.
1. Can you describe a day in the life as a registrar?
I usually start my day by checking emails (over a good cup of coffee). I then like to spend 10 to 15 minutes preparing my 'todo' list for the day.
I can sometimes attend over 20 meetings a week. On that basis, I now like to generally allocate 2 full days for meetings, which leaves me time to get to drafting and registry work on the other 3 days.
Keeping active is becoming increasingly important to me. I usually head to my spin class immediately after work, then get home to spend quality time with my son (and enjoy some dinner) before logging back in from home in the evening.
2. What are the biggest challenges you face?
Work / life integration can sometimes be a challenge. I sometimes find it difficult to switch off from work, particularly on weekends and when I'm on holiday. I am improving with time though!
3. What are the qualities that make a good registrar?
A registrar wears two hats: we have a customer service function, and also a judicial function. A good registrar is one that is capable of balancing the two functions without compromising one or the other. For example, I often have lawyers phoning me for advice or guidance on a case. I always like to assist and provide guidance as best I can, but must always do so objectively and without subconsciously providing advice; there is a fine line between the two.
4. What are the major initiatives you are working on for DIFC Courts?
We have so many wonderful projects that we are working on at the moment.
The DIFC Courts continues to build connectivity with other jurisdictions (to enable more straightforward and efficient foreign enforcement of judgments), so we have a number of MoUs with commercial Courts of different jurisdictions, in the pipeline.
We are also considering the benefits of mediation now, to the litigation process. While we have the launch of the Special Complaints Referral Centre, we are also considering whether we could broaden that initiative.
What really makes us stand out as a Court, however, is our appetite to innovation and forward-thinking change. We recently pitched, at the Standing Forum of International Commercial Courts in New York, the idea of authenticating judgments on the blockchain. The DIFC Courts is leading a working group, amongst commercial courts, on this very topic and we are confident that this will bring some exciting developments in the next year or so.