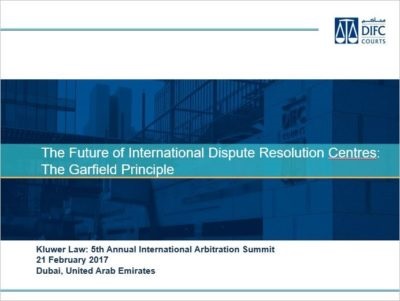 Excerpts from a speech by Mark Beer, OBE, Chief Executive, Dispute Resolution Authority
"The Future of International Dispute Resolution Centres: The Garfield Principle" at the Kluwer Law: 5th Annual International Arbitration Summit
Choice is a wonderful thing, but it needs to be sustainable. We have 6 court systems in the UAE. In the MENA region there are 49 centres for arbitration, 50 if the Emirates Maritime Arbitration Centre is included. That's more than we have Central banks. Most if not all are government funded. Many governments are operating budget deficits, and despite the recovery in the price of oil, all are focusing their expenditure. Are they all needed, is that choice significant? Are they offering what people want? Recent DRA Academy of Law's Study on governing law & jurisdictional choices in cross-border transactions showed that enforceability, fairness and speed were the three primary reasons for choosing a particular dispute resolution centre. Not arbitration vs. litigation, how pretty or imposing their banner was at a conference, or location.
Whilst choice is good, the number of centres in relation to the number of countries covered suggests trouble looms. But the reality for many centres is that they are declining, investment treaty arbitration is declining. The financial services sector, with some exceptions, prefer efficient commercial courts to arbitration. The reality is that whilst arbitration overall is probably increasing, the increase is not universal, as disputes are going to centres that offer enforceability, fairness and speed, irrespective of location.
And if the closure of an arbitration centre in India might be our Bear Stearns moment, how long before we have our regional Lehmans? How long before one of the region's 49 or 50 arbitration centres is closed?
What can we do about this? In my view, we need to take action, and soon. The answer is collaboration, As the DIFC Courts has become the most connected commercial court in the world, other Dispute Resolution centres must start to connect and collaborate. Homogenise rules, share marketing resources, cluster the offering to present a unified message and enhance the efficiency of the marketing spend. Share facilities. International arbitration can involve people from all around the world. Technology can allow everyone to connect remotely. Work together to enhance interoperability and enforcement, as well as offering training and development. When these best practices are shared, the stronger centres bring up those in need of support. Success then can be shared. The needs are simple: enforceability, fairness and speed.
Full text of the speech available, please email registry@difccourts.ae
To read the DRA Academy of Law's "Study on governing law & jurisdictional choices in cross-border transaction" in full please go to: http://www.draacademy.ae/blog/study-on-governing-law-jurisdictional-choices-in-cross-border-transactions/
To watch the video of the entire speech go to: https://www.newtonarbitration.com/event-subpage/?zoombox=vg1_vp-MEGsXUZVCk