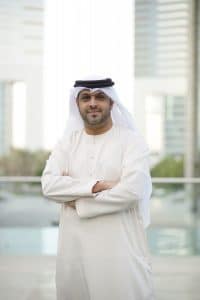 We speak to H.E. Justice Ali Shamis Al Madhani, a Judge of the Court of Appeal, about a typical day at DIFC Courts.
1. Can you describe a day in the life as a judge?
A regular day in the court varies according to whether there is a hearing on that day and on the durability of the hearing. On a regular trial day, I start by reading the submitted case files and preparing the parties and timetable; hearing the submissions of the parties and cross-examining the evidences presented to us. Mostly, I spend my time reading and preparing for the next case, writing judgment or any of the court related activities.
2. What are the biggest challenges you face?
Most of the challenges are technical issues relating to the preparation of the cases. For instance, if the litigants are unaware of the court rules and how the case should be presented, and receiving cases at a very short notice which involves reading extensive papers in a very limited time. When the cases are not well-managed, and the parties do not adhere to the assigned timetable, it becomes a greater challenge for us.
3. What are the qualities that make a good judge?
Every judge must possess adequate training in the desired field and should continuously equip themselves with the knowledge of different skills to handle cases efficiently. They should have strong listening skills and be very patient while drawing facts from inferences. In this age of innovation, Judges need to be progressive with the use of technology in their court room.
4. What are the major initiatives you are working on for DIFC Courts?
As well as carrying out my functions as a Judge of the Court, I am also involved with initiatives that help foster inter-regional relations with judiciaries in countries such as The Kingdom of Saudi Arabia, Kuwait, and Bahrain. This can help encourage knowledge exchange, best practices, and training, and in some cases, enforcement services.
After becoming the Chairman of the Middle East Board for Courts Administration for International Association for Courts Administration (IACA), I have become an advocate for promoting the effective administration of justice. Part of my mandate with IACA is to support national and regional judges and court employees to improve courts management.