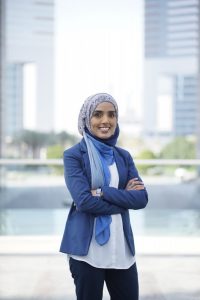 We speak to Mariam Deen, Small Claims Tribunal (SCT) Judge, about a typical day at DIFC Courts.
Can you describe a day in the life as a SCT Judge?
My priority is always to read the case file and consider all written submissions and supporting evidence well in advance of all hearings scheduled before me. I also ensure that I have the applicable laws to hand and consider any relevant DIFC cases that may have set a precedent in the type of dispute I am to determine. I prepare questions for the parties as required, particularly if there are gaps in the information already provided.
Unless I've granted the parties additional time to submit further evidence, I usually feel able to make a well-reasoned decision immediately. I prefer to draft the first version of my judgment as soon as possible following the hearing, while submissions are fresh in my mind, so that it can be issued within five days of the hearing. I choose to pass oral judgments in very simple cases, which avoids unnecessary delay for the parties; a written version of the decision and reasons follow this thereafter.
What is the best thing about being a judge?
Being able to resolve a dispute and see that justice is served. The beauty of the SCT is that it allows parties an opportunity to mediate before proceeding to the hearing stage. It is incredibly satisfying when the Claimant and Defendant can find some middle ground and leave the SCT having reached an amicable solution. Even when a hearing is necessary and a judgment is issued, I feel fortunate to be a part of the process that has helped people put their dispute behind them in a fair and just way.
What are the biggest challenges you face?
Litigants are usually not legally represented in the SCT, which results in time and cost savings for them. However, problems sometimes arise when parties represent themselves as they are heavily invested in the process and emotions can run high. When parties bring up irrelevant or personal matters I am quick to direct them against doing so and ensure that the hearing proceeds in the most helpful and respectful manner possible.
What are the qualities that make a good judge?
Impartiality; it is important to remain objective throughout the process and to filter through the submissions in a way that reaches the salient facts. Compassion is also required; I keep in mind that the parties may be frustrated by the fact that their dispute arose at all, even more so by the fact that it needed to be referred to mediation and/or adjudication. I understand that for many litigants the hearing stage is their last resort for a solution and so I aim to deal with the case in a way that I would like my own to be handled.
What is the process to qualify as a SCT judge?
All SCT Judges must be legally qualified and have the appropriate experience. My Barrister training, particularly the advocacy, negotiation and mediation elements assist me a great deal in my hearings. In addition, my experience as In-House Legal Counsel allows me helpful insight into the needs and nuances of company practices, which leads to a greater understanding of how and why disputes arise.
My additional role as Judicial Clerk has helped me tremendously in terms of my knowledge of the DIFC Laws and how they apply; having expertise in drafting judgments for the Court of First Instance and Court of Appeal support my role as SCT Judge and I employ the same methods in drafting judgments for each of the Courts.