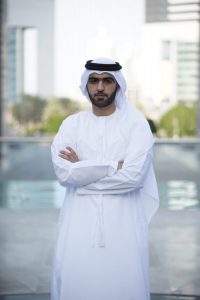 We speak to Nassir Al Nasser, Small Claims Tribunal (SCT) Judge and Registrar, about a typical day at DIFC Courts.
Can you describe a day in the life as a Registrar and Judge?
As a Registrar, each day involves monitoring the day-to-day progression of the Small Claims Tribunal Registry, making sure the cases and filings are on time, the consultations or hearing are listed and keeping track of all the deadlines of cases filed within the Small Claims Tribunal. As a Judge, I must prepare for a hearing, read all the documents and the party submissions. After a hearing, I then prepare a judgment. I generally do not write my judgments on the same day, as I like to prepare and plan well in advance of issuing. It takes an average of five working days for us to issue our judgments.
What is the best thing about being a judge?
Helping people by resolving disputes to reach justice. When parties come to the court, this is their last resort and they are here hoping to get a positive result from the hearing. Swift access to justice is pivotal to our service.
What are the biggest challenges you face?
As a rule, SCT litigants are non-lawyers. Therefore, most of the litigants are not aware of the rules of the court and how the documentation of the case files should be lodged and presented. Here, the biggest challenge is trying to explain to the litigants how to prepare the file and the next steps of the process, for example, gathering evidence.
What are the qualities that make a good judge?
Judges must demonstrate patience and flexibility, and draw inferences from facts and evidence. A SCT judge must possess the ability to resolve any disputes swiftly and with minimal disruptions to litigants. This can, in any case, be challenging.
What is the process to qualify as a SCT judge?
As a first requirement, a person should possess a law degree. Specific trainings can then be implemented for the Small Claims Tribunal. Acquiring the expertise to oversee SCT cases is in essence a less complex task than that of a Court of First Instance (CFI) judge. Training involves procedure and practice for judgments and the skills needed to adopt a role of mediation, which is pivotal to SCT.
My personal training included a course from the Royal Institute of Chartered Surveyors (RICS) and Singapore Mediation Centre. This training aided with consultations, especially with narrowing down the differences between parties. Whilst theory and training courses are very useful, practical shadowing of more experienced judges, contributed massively to career growth.