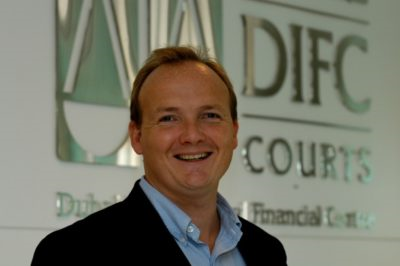 Mark Beer, OBE, co–Chief Executive and Registrar General of the DIFC Courts
As delegates gather this week in Washington, DC, for the annual International Association of Court Administration (IACA) conference, one of the hot topics for discussion will be how judiciaries can best utilise technology to increase access to justice.
Policymakers worldwide have set courts the challenge of being more accessible to the people and businesses they serve, with technology among the most effective tools they have to hand.
This has certainly been the experience of the DIFC Courts, with initiatives such as our e-Registry system to speed up document filing and case progression, and our Smart Small Claims Tribunal to enable parties to resolve disputes from anywhere in the world directed by a judge in a virtual courtroom. We believe that our journey into the future is just beginning. Technology has the potential to sweep aside centuries-old barriers and outdated practices, transforming the experience of using a court, making it more human and service-oriented.
Of course, turning to technology to increase accessibility is not without its challenges. Going digital could conflict with another key demand placed on modern courts, namely to maintain security against an ever-greater series of threats. Meanwhile, technologies like cloud computing are fundamentally transnational in nature, which could put a court system at odds with its more domestically-focused objectives.
So while technology can undoubtedly help a court to respond to the challenge of how to increase accessibility, it can also pose new questions in the process. That is why courts are rightly cautious when it comes to adopting new digital and connectivity initiatives, only doing so once they have been fully tried and tested. And it is also why courts must collaborate with each other, and partner with the best providers in the industry. This is the route to maximising the many opportunities that proven technologies can offer, and progress faster to reaching the twin goals of expanding access to courts, while strengthening security.
While individually we may not have all of the answers, by working together we can at least ensure we ask the right questions.